Recently I joined 32 other women who wrote in the Zombie genre and we released a fantastic compendium of undead treats for lovers of the genre! It's called Darlings of Decay and the best news is that it's a FREE download on Amazon! What a great way to try samples of some of the greats writing in the genre! Click on the cover and it will take you straight to Amazon.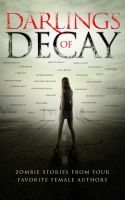 Today I welcome fellow Darling of Decay Chantal Boudreau and ask her a few Zombie related questions. But before we do, let's get everyone a little more acquainted…
Aside from being a long-time fan of the zombie genre via books, movies and now TV, Chantal Boudreau began her existence as a published author with a zombie short story named "Palliative" in an anthology called "Vampires, Zombies and Ghosts – Oh My!" published by Notreebooks. This was followed by the publication of several other zombie shorts: "Just Another Day," "Waking the Dead," "Escarg-0," and "Life and Undeath on the Chain gang" in the May December Publications anthologies "First Time Dead, Volume 1", "Hell Hath No Fury," (all women writers) "Zero" and "Zombie Lockdown" as well as "What a Man's Gotta Do" in the anthology "Undead Tales" from Rymfire Books. She also has a stand-alone zombie digital novella published: "Shear Terror." She completed extensive research for her blog series "Chantelly's Field Guide to Zombies" and published a non-fiction article on Zomedy – the dark humour in zombie fiction, in Zombie Writing from Rymfire Books. She hopes to find a publisher for Sleep Escapes Us, a zombie novel set in Ancient Thrace involving the myths surrounding the death god, Zalmoxis.
Chantal, an accountant/author/illustrator, lives in Nova Scotia, Canada.  A Horror Writers Association member, she writes horror and fantasy, with several non-zombie short stories published to date as well.  Fervor, her debut dystopian novel, was released March 2011 followed by sequels, Elevation, Transcendence and Providence, and two novels in her Masters & Renegades fantasy series.
Welcome Chantal. So tell me: why Zombies? Is there anything specific that draws you to the genre?
I've been a horror fan in general since my pre-teens and one of my first exposures to horror films…I think I was thirteen at the time… was the original Dawn of the Dead.  I loved it.  Zombies stuck with me after that as one my favourite parts of the genre.
Tell us about your latest project.
My latest project has nothing to do with zombies, actually.  It's Endeavor, the fifth book in my Fervor dystopian series.  The last zombie short I wrote, Dead Drift, is scheduled for release in October as part of a Canadian anthology, Dead North.  It is already available for pre-order online (see photo and link).
What makes your Zombies different, if anything?
Well, for one, I don't have a standardized zombie type.  I play with elements of the genre and origin stories and I love to have science or legend to back these stories up.  I've written about runners, shamblers, modern infection and supernatural-sourced zombies that come from a range of initiators from parasite-infested snails to GMO coffee beans to divine curses.  I also like to include an element of humour, be it ever so slight.
Has there been a Zombie novel or short story that has inspired you to write in the genre? If so, tell us about it and why it inspired you. 
I know this may sound strange, but Pet Sematary by Stephen King was probably the first zombie novel I read and one of my favourites.  I think I liked it because it wasn't your run-of-the mill zombie apocalypse tale, and had its basis in Native American legend
What is your all-time favourite Zombie book that you didn't write?
I really like TW Brown's Zomblog.  His Dead series is good too, but I particularly enjoyed the character development in Zomblog and some very unexpected twists in the book.
Do you feel that gender plays a part in getting noticed in the genre? If so, why do you think readers are more comfortable reading Zombie works written by men?
I try not to concentrate on the fact that gender plays a role, even if it does.  But the truth is, I've been in more than one zombie anthology dominated by male writers.  I think the zombie sub-genre tends to involve dehumanizing people and women are seen by society as nurturers.  The two concepts tend to conflict, so the idea of female zombie writers makes some people uncomfortable.
Have you ever thought about using a male pseudonym to sell more books?
Absolutely not.  I was raised to be proud of the fact that I'm a woman and I'm not about to let outside influences devalue that.  Besides, the only way we're going to make headway in the genre and gain more acceptance is by promoting the fact we are female zombie writers.
Characters or gore – what do you spend more time writing?
Characters – definitely.  But I don't skimp on the gore in scenes I feel I need it.  I have a "tide of gore" scene in my yet to be published cross-genre zombie alternative history novel set in ancient Thrace, Sleep Escapes Us, that is probably one of the goriest scenes I've ever written.
What are your top 3 favourite Zombie films? 
That one's really tough.  There are probably at least 10 or 11 I'd rank as my favourites without having seen the latest ones out.  If I had to label them in three categories, I'd say my favourite classic Romero-style is Dawn of the Dead, I'd call a tie for infection/runner movies between 28 Days Later and I Am Legend and a tie for zomedies between Zombieland and Shaun of the Dead.  But there are many others I'd rank up there, like my favourite indie Canadian zombie flicks like Pontypool and Fido. They have a quirkiness and originality you won't find in the typical genre movies.
One of my all-time favourite Zombie films is Pontypool so I'm glad to see it made another Canadian's list! Do you think the popularity of The Walking Dead and its appearance in mainstream media has helped to increase the popularity of the genre, or has there always been such an interest? 
I think it has moved the genre out of niche audiences and into mainstream ones, sure.  But there's also a socio-psychological element to the current genre popularity.  Its popularity tends to rise with public discord and there's a lot of turmoil and flux out there right now.  I think it goes with the heightened level of social anxiety.  People draw comfort in the idea of fighting for survival against all odds – and winning – if the world went to pot.
Pop Quiz: If the Zombie Apocalypse were to occur right now, 5 things found in the room you are currently sitting will be your weapons – what are they?
LOL – Nothing in here is all that dangerous.  I'd have to resort to bashing it in the head with my coffee mug, DVD player, or laptop or stabbing it in the eye with the scissors or a piece of broken picture frame glass.
Well Chantal, they say the necessity is the mother of invention but I don't think you stand a chance against the zombies in this case…
Thank you for taking the time to answer my questions Chantal. If you would like to stalk Chantal on the internet, here are a few good places to start: her website, Facebook, Amazon, Twitter, Scribd and Goodreads.