Recently I joined 32 other women who wrote in the Zombie genre and we released a fantastic compendium of undead treats for lovers of the genre! It's called Darlings of Decay and the best news is that it's a FREE download on Amazon! What a great way to try samples of some of the greats writing in the genre! Click on the cover and it will take you straight to Amazon.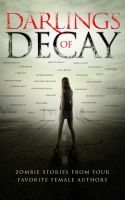 Today I have the pleasure of featuring an interview with Michelle Kilmer, author of When the Dead and other books. For those of you unacquainted with Michelle, let's take a moment and get to know her…
Michelle Kilmer is a lover of the macabre, especially zombies. She is a frequent zombie walker and can be found, with her twin sister, in "full gore" at many horror-related events. Having grown impatient for the zombie apocalypse she decided to bring one to her doorstep in When the Dead . . . her first novel, published in 2012. The Spread, co-written with her twin sister and released in 2013, is a short story collection that follows the plague from chapter to chapter and person to person.
When Michelle isn't covering herself in wounds and eerily realistic blood or writing about zombies, she is the owner of a web design company, a gamer, a musician and a crafter.
She lives with her husband in a secured-access apartment with two baseball bats, a machete, a growing canned food collection and a fear of the dark.
Welcome Michelle. So tell me: why Zombies? Is there anything specific that draws you to the genre?
As a society, zombies offer us a unique escape from all the constraints of our day-to-day lives. Rules and order disappear and chaos reigns. I personally am drawn to them because they force us to re-examine ourselves and remind us to value life.
Tell us about your latest project.
I am currently working on a lot! A follow-up to my novel When the Dead, a short story collection featuring fans as main characters, a young adult zombie novel, a sci-fi short story collection, I could go on…
What makes your Zombies different, if anything?
Mine don't run, they don't have superhuman strength, and they don't rise from the grave. If you were dead already, you don't come back.
Has there been a Zombie novel or short story that has inspired you to write in the genre? If so, tell us about it and why it inspired you.
Day by Day Armageddon by J.L. Bourne. I love the journal style and the different locations the character travels to. Also The Rising, City of the Dead and Dead Sea by Brian Keene. His characters are always interesting.
What is your all-time favourite Zombie book that you didn't write?
That is very difficult for me to choose, but I think I'm going to pick Dead Sea. I loved the idea of surviving (or trying to) on a ship.
I will have to be sure to check that one out – thank you! Do you feel that gender plays a part in getting noticed in the genre? If so, why do you think readers are more comfortable reading Zombie works written by men?
Yes, I do. But I'm hoping that being a female author in the genre will help me stand out. Men, generally, are more brutish and perhaps this gives readers the idea that they would write darker, bloodier, more twisted stuff. I'm not really sure the psychology behind it, but one should never group or divide individuals based on sex or anything else. Everyone has unique ideas.
Have you ever thought about using a male pseudonym to sell more books?
Nope. Never. My work is mine and whether it sells less because my name and gender are attached to it doesn't matter to me. Besides, we won't change the system by playing its game.
Characters or gore – what do you spend more time writing?
Definitely characters but with a bit of gore on top. I'm not writing to gross people out. I'm writing to get people to think. Character dynamics, the way people react (or don't), what regular people do in irregular situations, these are the things that intrigue me.
What are your top 3 favourite Zombie films?
If I had to choose, they would be:
Dawn of the Dead (remake)
Shaun of the Dead
Return of the Living Dead III
Do you think the popularity of The Walking Dead and its appearance in mainstream media has helped to increase the popularity of the genre, or has there always been such an interest?
There has always been an interest, but TWD has made the genre more accessible to folks who hadn't considered it as something they'd enjoy. But, many ONLY watch TWD. They don't always go on to read zombie novels or even the TWD comic. When the Dead has been likened to TWD with its character driven story. So maybe I'll get some of those fans!
Pop Quiz: If the Zombie Apocalypse were to occur right now, 5 things found in the room you are currently sitting will be your weapons – what are they?
1. The central metal pole of a tall lamp
2. Metal leg of an Ikea desk
3. metal shelving rail, detached from wall
4. heavy coffee table books as brain bashers
5. hanging slider blinds, taped together and then shaped to a blade point
Too bad I'm not in my bedroom where the machete is!
You may be one of the first people with a fighting chance Michelle. You'll have to work for it, but the odds seem good.
Now let's take a quick look at Michelle's When the Dead…
Have you ever wondered what might happen if a group of survivors decided to stay put? To never leave the safety of home to search for salvation? When the Dead . . . provides one scenario to answer the question. In a world where neighbors are strangers and we live behind locked doors, the living dead can really bring issues to a head. There is no way out for the residents of Willow Brook Apartments. Outside a plague is spreading while behind the walls, neighbors are forced to become friends . . . or enemies. When the Dead . . . will introduce you to a doomed family, a dying child, an egomaniac, a murderer, and other undesirables (including the undead!!) in three floors of secured-access chaos.
Thank you Michelle for taking the time to answer my questions. If you're looking to connect with Michelle, you can find her on Twitter, Facebook, Goodreads, and her website.
Also, if you'd like to meet Michelle and purchase one of her books, she will be at Quarantine Zone Sept. 27th – 29th (http://tacomazombpocalypse.com/).