Recently I joined 32 other women who wrote in the Zombie genre and we released a fantastic compendium of undead treats for lovers of the genre! It's called Darlings of Decay and the best news is that it's a FREE download on Amazon! What a great way to try samples of some of the greats writing in the genre! Click on the cover and it will take you straight to Amazon.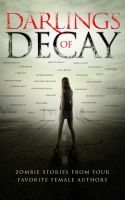 Today I have the pleasure of featuring an interview with Ally Thomas, author of a few different series and contributor to the recent compilation Darlings of Decay. So for those of you that aren't familiar with Ally, let's take a moment to learn a little more about her…
Ally Thomas loves writing paranormal books that showcase vampires, werewolves, zombies, witches, and any furry monsters who go bump in the night. She enjoys imagining new origins for these traditional creatures and seeing where it'll take her.
Ally lives in the south with her husband and unproductive furry co-workers including two cats and a dog. She is currently working on the next installment of the paranormal series, the Vampire from Hell and the upcoming paranormal romance series, Fanged Love. Learn more at www.allythomas.com.
Welcome Ally! So tell me: why Zombies? Is there anything specific that draws you to the genre?
Primarily I write about vampires.  However, zombies are an interest to me.  I've wanted to start a zombie series for a long time.  That's why I was excited to be invited to be a part of the Darlings of Decay zombie anthology. I wrote a story called Zombie Wolf that is included.
What makes your Zombies different, if anything?
Zombies, being undead, are sort of like vampires to me.  They've just stepped over to that next level of going clearly insane with wanting to eat people's brains.
Has there been a Zombie novel or short story that has inspired you to write in the genre? If so, tell us about it and why it inspired you.
I'd say probably zombie movies have inspired me.  My favorite zombie movies are Shaun of the Dead and 28 Days Later.
What is your all-time favorite Zombie book that you didn't write?
Pride and Prejudice and Zombies by Jane Austen and Seth Grahame-Smith
Do you feel that gender plays a part in getting noticed in the genre? If so, why do you think readers are more comfortable reading Zombie works written by men?
I don't really let that bother me.  Women have being writing horror since Mary Shelley with Frankenstein, so I don't think it really matters as long as it's a great story that grabs the readers.
Have you ever thought about using a male pseudonym to sell more books?
Nope.
Characters or gore – what do you spend more time writing?
Probably characters, but I love to throw in the violence and gore too when I can.
What are your top 3 favourite Zombie films?
Shaun of the Dead
28 Days Later
Night of the Living Dead
Do you think the popularity of The Walking Dead and its appearance in mainstream media has helped to increase the popularity of the genre, or has there always been such an interest?
I think it has helped increase interest, but I also think zombies are the next big thing.  And that shift has been on the horizon for several years I think.
Pop Quiz: If the Zombie Apocalypse were to occur right now, 5 things found in the room you are currently sitting will be your weapons – what are they?
Scissors, electric guitar, my laptop or my dog, and possibly my bookcase if I could get the zombie to stand in front of it.
I'm sorry Ally, but Zombies are generally not very co-operative… It's not looking good for you…
Now let's take a look at Ally's Zombie Wolf (The Net Generation #1)…
At twenty-four Zachary has been through many zombie outbreaks and knows how to stay alive. He's been so good at killing zombies for so many years that he makes a living at it. He claims it's the reason he has the nickname the 'Zombie Wolf,' even though he knows that's not the case.
With time and space travel being as common as the Internet and cell phones, Zachary and his team travel often to kill zombies and rid the solar system of total infestation. Now in the year 3015 A.D., more sightings of zombies are being reported on Planet Earth, but no one knows how to kill these snake-like creatures. Zachary's destiny unfolds when he comes face to face with the next generation of zombie and an innocent bystander gets bitten. He considers killing the attractive girl because she's as good as dead anyways. But when he sees she has a werewolf mark, same as what he has, he knows he must save her.
Thank you Ally for taking the time to answer my questions. If you'd like to find out more about Ally and her work, you can visit her website!