Recently I joined 32 other women who wrote in the Zombie genre and we released a fantastic compendium of undead treats for lovers of the genre! It's called Darlings of Decay and the best news is that it's a FREE download on Amazon! What a great way to try samples of some of the greats writing in the genre! Click on the cover and it will take you straight to Amazon.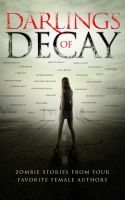 Today I have the pleasure of presenting an interview with Laura Bretz, co-author of the What Zombies Fear series. For those of you that aren't familiar with Laura, here's a little information about her…
Laura Bretz has been immersing herself in fantasy lands, apocalyptic settings and all things impossible since she was a child. Pretending to survive in a post-apocalypse world set fire to her imagination and teaming up with Kirk Allmond and "What Zombies Fear" finally gave her an outlet to express and bring her characters to life. Graduating with a focus in interior design has given her an excellent eye for detail. Combining her love of painting and attention to detail is what allows Laura to create vivid pictures with words. When she is not obsessing over tenses and punctuation, Laura is usually spending time with her dogs Marty and Teddy, painting, or singing with her local Sweet Adeline's International chorus in south-central Pennsylvania.
Welcome Laura! So tell us: why Zombies? Is there anything specific that draws you to the genre?
For me, it's much more about the characters in the zombie setting than the zombies themselves.  It's amazing how you can really identify with the characters in a story when they're stretched to their absolute limit.
Tell us about your latest project.
Currently, I'm continuing working on The Book of Kris (http://www.thebookofkris.com) which is set in the same world as my short story in Darlings of Decay.  I'm also working with Kirk Allmond on the next book in the What Zombies Fear series which is coming along really well.  We're also working on a serial story called "Will of the Dead" under the pseudonym Laura Kirk.  All of our stories are available on Amazon and Smashwords.
What makes your Zombies different, if anything?
In my universe, the zombies are caused by a brain parasite. The more parasites the host is infected with, the more areas of the brain the zombie can control. In a strong infection, the zombie can regulate cellular regeneration (they don't rot) and even speech. In the most severe infections, the parasite can control areas of the brain that humans don't use. (Because we only use 10% of our brain.) In those "super zombies," they can run at extreme speed, regenerate in seconds, and sometimes it's even worse.
Has there been a Zombie novel or short story that has inspired you to write in the genre? If so, tell us about it and why it inspired you.
Yes and it's also what really got me interested in the genre in the first place.  Kirk had already written the first What Zombies Fear novel and was about a quarter through the second when I read the story.  I ended up loving it so much that I began writing a new character with her own "back story" in the same universe.  That's where The Book of Kris came from.  I gave the few chapters I had at the time to Kirk and he loved it so much that he asked if I would write with him.  Of course I said yes.  And the rest is history!
What is your all-time favourite Zombie book that you didn't write?
Oh heavens, I have to pick just one?  Well, I'd have to say The Zombie Chronicles by Mark Tufo.
Do you feel that gender plays a part in getting noticed in the genre? If so, why do you think readers are more comfortable reading Zombie works written by men?
I absolutely do.  I think that any story that has a lot of gore or violence people will automatically assume that it's written by a man.  There's an entire stereotype about being female (as we all know) that women are just "not meant" to write about gore, violence or things that go bump in the night.  We're "supposed to" write sweet, lovey stories not stories about zombies eating your brains out.  On average, the zombie genre attracts males ages 18-35 and typically, books that attract men are often written by men as well.  We're at a huge disadvantage in this field which is why Darlings of Decay is so exciting.  All of us in one place is such a rare thing and it's awesome to be able to strut our stuff.
Have you ever thought about using a male pseudonym to sell more books?
Hasn't everyone? J But honestly, I only think I would if I had suddenly become a massive success over night.  I'd probably try to write something completely different and pull a J.K. Rowling.  (http://www.npr.org/blogs/thetwo-way/2013/07/18/203434193/london-law-firm-indirectly-leaked-j-k-rowlings-pseudonym if you're wondering what I'm talking about)
Characters or gore – what do you spend more time writing?
Characters without a doubt.  In my opinion, you can only describe a shambling corpse so many ways before the reader gets bored.  I love delving deeply into a character and figuring out what makes them tick.  It's insanely gratifying when I can feel a character go through every single emotional rollercoaster, fall to their knees in defeat and then find courage they never knew they had as they smash in the head of a zombie that's going to consume them.
What are your top 3 favourite Zombie films?
28 Days Later.  Dawn of the Dead (both of them).  Zombieland.
Do you think the popularity of The Walking Dead and its appearance in mainstream media has helped to increase the popularity of the genre, or has there always been such an interest?
There's no doubt that it's increased its popularity but zombies have always been popular in their own way.  The Walking Dead has just widened the market and made zombies cool instead of quirky or bizarre.  People that would never even consider watching something zombie related are suddenly tuning into AMC which is great news for us zombie authors.
Pop Quiz: If the Zombie Apocalypse were to occur right now, 5 things found in the room you are currently sitting will be your weapons – what are they?
Two TV trays.  Floating Shelf.  A big lamp stand and Kirk Allmond.  We got this.
I'm sorry Laura, but I'm not sure Kirk would be all that helpful… The lamp stand might give you a little advantage however – you may well make it.
Thank you Laura for taking the time to answer my questions. If you're looking for some additional information regarding The Book of Kris, you can find it online. You can also find Laura online on her Amazon Author Page and her Facebook Fan Page.