Recently I joined 32 other women who wrote in the Zombie genre and we released a fantastic compendium of undead treats for lovers of the genre! It's called Darlings of Decay and the best news is that it's a FREE download on Amazon! What a great way to try samples of some of the greats writing in the genre! Click on the cover and it will take you straight to Amazon.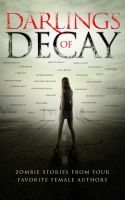 Today I have the pleasure of featuring an interview with Kristen Middleton, author of the Zombie Games series. For those of you who have yet to come across Kristen, let's get you all better acquainted…
Kristen Middleton lives in Minnesota with her husband, Dave, and two daughters, Cassie and Allie. She spends her days chasing kids, drinking iced-coffee, and obsessing over completing her current book or starting the next one. Besides spending time with her family, she enjoys reading, movies, traveling, cooking, and watching The Walking Dead and Shameless on Sunday Nights. She also LOVES getting emails from her readers, so (unless you're craving brains or blood) don't be afraid to send her a message at: kristenmiddletonauthor@yahoo.com.
Welcome Kristen, so tell us: why Zombies? Is there anything specific that draws you to the genre?
I think the idea of zombies and an apocalypse is terrifying and fascinating at the same time.  I think that they remind us of how little we take for granted of the things in our lives right now and how easily it could all just slip away if something catastrophic like that ever really happened. Plus, they multiply quickly, they are relentless, and will do anything to eat our brains.
Share your latest project with us.
I just finished book three of Vengeance (Night Roamers), which is part of my vampire series. October 1st, I hope to have Zombie Games (Book Five) available.
What makes your Zombies different, if anything?
Mine are a little more slow-moving but other than that, pretty typical zombies.
Has there been a Zombie novel or short story that has inspired you to write in the genre? If so, tell us about it and why it inspired you.
A movie inspired me, actually. About two years ago my husband talked me into watching Zombieland and I was totally fascinated with it. Just like that movie, I've tried adding a little humor and fun to my zombie series.  .
What is your all-time favourite Zombie book that you didn't write?
I really enjoyed Shannon Mayer's Nevermore series and Jacqueline Druga's Sleepers. I had tears reading those two books and they stand out to me the most. They really capture the pain and loss of the world ending as we know it. Losing family and trying to survive in a horrific zombie wasteland.
Do you feel that gender plays a part in getting noticed in the genre? If so, why do you think readers are more comfortable reading Zombie works written by men?
I think that readers looking for more military zombie books might be more apt to read a male author's zombie book. Most of my readers are female and have commented that they enjoy the humor and romance I've managed to slip in.
That's an excellent point Kristen. Have you ever thought about using a male psuedonym to sell more books?
I'm actually doing pretty well building a name for myself in the zombie genre. The past few months I've been up there with Mark Tufo and Shawn Chesser in author rankings on Amazon, and I'm pretty satisfied with my sales. It's a very interesting idea, however. If I ever decide to write a book filled with more gore, violence, and sex, I might have to experiment with that.
Characters or gore – what do you spend more time writing?
Characters.
What are your top 3 favourite Zombie films?
Zombieland
Night of The Living Dead
28 Days Later
Do you think the popularity of The Walking Dead and its appearance in mainstream media has helped to increase the popularity of the genre, or has there always been such an interest?
Definitely has increased the popularity.
Pop Quiz: If the Zombie Apocalypse were to occur right now, 5 things found in the room you are currently sitting will be your weapons – what are they?
A frying pan
A rolling pin
A broom handle
Only three? Kristen, I've gotta say I don't like your chances…
Not let's take a sneak peek into Kristen's Zombie Games (Origins)…
Seventeen-year-old Cassandra Wild thought that living in the chaos of her mother's home daycare and dealing with new feelings for Bryce, her martial arts instructor, was a struggle until her world turned upside down. When an untested vaccine kills more than just a rampant flu virus, Cassie learns how to survive in a world where the dead walk and the living… run!
Thank you for taking the time to answer my questions Kristen. If you'd like to connect with Kristen, you can find her on Amazon, Facebook, or her Website.