Recently I joined 32 other women who wrote in the Zombie genre and we released a fantastic compendium of undead treats for lovers of the genre! It's called Darlings of Decay and the best news is that it's a FREE download on Smashwords! What a great way to try samples of some of the greats writing in the genre! Click on the cover and it will take you straight to Smashwords.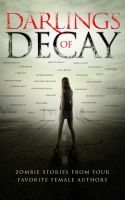 I have the great pleasure of posting my interview with Anna Taborska today. Anna is one of my fellow Darlings of Decay and if you haven't heard of her yet, you soon will. In fact, let's get you all acquainted now…
Anna Taborska was born in London, England. She is a filmmaker and horror writer. Anna has written and directed two short fiction films (Ela and The Sin), two documentaries (My Uprising and A Fragment of Being) and a one-hour television drama (The Rain Has Stopped), which won two awards at the British Film Festival Los Angeles in 2009. Anna also worked on seventeen other films, with actors such as Rutger Hauer, Scott Wilson, Noah Taylor and Jenny Agutter, and was involved in the making of two major BBC television series: Auschwitz: the Nazis and the Final Solution and World War Two behind Closed Doors – Stalin, the Nazis and the West. Her short stories have appeared in various anthologies, including The Black Books of Horror and Terror Tales of London in the UK, and Best New Writing 2011, Best New Werewolf Tales Vol.1 and The Best Horror of the Year Volume Four in the US. Anna's story Bagpuss was an Eric Hoffer Award Honoree, and the screenplay adaptation of her story Little Pig was a finalist in the Shriekfest Film Festival Screenplay Competition, 2009. Anna's debut short story collection, For Those who Dream Monsters, is due out in late 2013, with the release of a novelette collection, Bloody Britain, planned for 2014. You can view Anna's resume here: http://www.imdb.com/name/nm1245940/ , watch her films and book trailers here: http://www.youtube.com/annataborska and get the latest news about her short stories here: http://annataborska.wix.com/horror.
Welcome Anna! So tell us: why Zombies? Is there anything specific that draws you to the genre?
I generally write about what scares me. I find Zombies particularly scary because they are practically unstoppable – unlike living humans and most living monsters, they don't feel pain, and their sheer numbers are overwhelming. And Zombies are morbidly fascinating as they are a walking display of the process of decomposition of the human body and, as such, a reminder of our own mortality and inevitable grotesque and ugly end. I find that a good way of dealing with my fears is to incorporate them into my writing.
Tell us about your latest project.
My first short story collection, For Those Who Dream Monsters, should be out in November 2013. Closer to the date I'll put out a trailer with more info on my YouTube page after that, I'll hopefully have a novelette collection, Bloody Britain, out in 2014. I must confess, these collections will not contain Zombie stories – rather tales of other monsters, both human and not.
However, in the meantime, for fear of letting the Zombie out of the (body)bag, I can only hint that there will be a somewhat kinky Zombie story coming out from Mortbury Press later this year in The Tenth Black Book of Horror, edited by Charles Black. If the idea of a naughty Zombie story with nuns and necromancy appeals to you, then keep an eye on the Mortbury Press website: The Tenth Black Book of Horror should be up there around November-time, and on Amazon not long after that.
I've had stories in the Black Books of Horror before, and I'm particularly pleased to have my story Little Pig in The Eighth Black Book of Horror because my severed head appears on the front cover – drawn by artist Paul Mudie – among the heads of all the other authors whose stories appear in the book. I guess other people might feel the same about appearing on the cover of Vogue. Little Pig has been a very lucky story for me, as it was picked by editor Ellen Datlow for her anthology The Best Horror of the Year Volume Four, and my screenplay adaptation of it was a finalist in the Shriekfest Film Festival Screenplay Competition.
I cannot wait to read your collection coming out later this year! What makes your Zombies different, if anything?
I currently have two pieces of work with zombies (but I plan to write more!). One is the flash fiction piece Picture This, which appears in Darlings of Decay, and features representatives of the slow-shuffling Night of the Living Dead variety. The other is a screenplay I wrote some years ago, working title Chainsaw, with a detachment of Nazi Zombies residing in an underground bunker in Eastern Europe. At the time I wrote the screenplay, there weren't many Nazi Zombies about, but with films like Outpost and Dead Snow coming out, my Nazi Zombies have become less of a novelty. These particular Zombies are slow-shuffling scavengers, feeding on the corpses of dead animals when there are no living humans to be had.
Has there been a Zombie novel or short story that has inspired you to write in the genre? If so, tell us about it and why it inspired you.
One of the most inspirational pieces of work I have ever read is Richard Matheson's I Am Legend. Some might argue that the legions of bloodthirsty undead in Matheson's novel are closer to vampires, but for me they're zombies, albeit speaking ones, and they were certainly portrayed as zombies in the 2007 film adaptation starring Will Smith – a film I enjoyed a lot, but which drifted too far from the original and in which Matheson's superb and chilling ending was sadly turned into a Hollywood happy ending. I was very saddened to learn of Matheson's death not long ago. Richard Matheson's novel, and George Romero's film Night of the Living Dead were the two works that most inspired me to write in the genre.
I agree with you Anna; I think I Am Legend is more of a Zombie book than Vampire, though I can see the similarities to both. What is your all-time favourite Zombie book that you didn't write?
Again, it's I am Legend by Richard Matheson. Having said that, there is a rich body of great new Zombie fiction out there at the moment, and I plan to read more new work, as well as the classics.
Do you feel that gender plays a part in getting noticed in the genre? If so, why do you think readers are more comfortable reading Zombie works written by men?
I think gender plays less of a role in getting noticed in the genre than it used to – certainly when it comes to the world of books, in which women such as Mary Shelley have traditionally blazed an electric trail (if you pardon the pun). The film world is different – the genre is still very much male-dominated, and when we think about Zombies, we think of directors such as George Romero and Lucio Fulci; the number of Zombie films directed by women is painfully small. Returning to books – if traditionally readers have been more comfortable reading Zombie works by men, then I reckon this would have been linked with people's perception of traditional gender roles and the misconception that representatives of 'the gentler sex' are incapable of handling the darker, crueller, gorier side of life. I think by now most of us know that simply isn't true.
Have you ever thought about using a male pseudonym to sell more books?
Yes, I have thought about using a male pseudonym. When I first started submitting horror short stories for publication, I tried sending them to magazines such as Playboy – I never even got as far as having a story read, let alone accepted. That was probably the time when I most considered using a male pseudonym. But then a friend forwarded one of my stories to talented British horror and crime writer Paul Finch, who helped me a great deal and introduced me to Charles Black of Mortbury Press, who was the first person to publish one of my stories. So with the help of Paul and Charles in the UK, and a bit later editors Jeani Rector and Jean Goldstrom in the US, my work started to come out under my own name.
Characters or gore – what do you spend more time writing?
I probably spend more time writing characters, although gore can be a lot of fun to write.
What are your top 3 favourite Zombie films?
There are a lot of Zombie films I love, such Zombie Flesh Eaters and The Beyond by Lucio Fulci, but I'll have to be boring and say: George Romero's Night of the Living Dead, Dawn of the Dead and Day of the Dead – for me, those really are the best Zombie films ever made and I never tire of watching them.
Do you think the popularity of The Walking Dead and its appearance in mainstream media has helped to increase the popularity of the genre, or has there always been such an interest?
I think that The Walking Dead appeared in mainstream media because of a resurgence in the popularity of the genre in theatrical movies and in books, but there's no doubt that The Walking Dead is gaining new fans for the genre.
Pop Quiz: If the Zombie Apocalypse were to occur right now, 5 things found in the room you are currently sitting will be your weapons – what are they?
Scissors, metal lamp stand, chair leg, television set, large glass vase.
You may well survive Anna, but only barely! Now let's take a quick look at The Eighth Black Book of Horror that features Anna's story Little Pig…
The latest volume of The Black Book of Horror contains 13 new stories by Reggie Oliver; Paul Finch; David A. Riley; Mark Samuels; John Llewellyn Probert; Gary Fry; Tina & Tony Rath; Marion Pitman; Thana Niveau; David Williamson; Anna Taborska; Stephen Bacon; and Kate Farrell.
Thank you Anna for taking the time to answer my questions! If you'd like to connect with Anna you can find her on IMDB, Facebook, Twitter (though she admits she doesn't Tweet much), her website, LinkedIn, and YouTube.