Recently I joined 32 other women who wrote in the Zombie genre and we released a fantastic compendium of undead treats for lovers of the genre! It's called Darlings of Decay and the best news is that it's a FREE download on Smashwords! What a great way to try samples of some of the greats writing in the genre! Click on the cover and it will take you straight to Smashwords.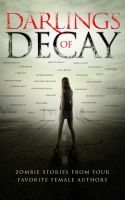 Even though I'm a little late, I have the biggest of treats for you today! Fellow Darling of Decay AR Von has answered my probing questions! For those of you unfamiliar with AR, or Ava as she likes to be called, let's take a moment to get you all acquainted…
Hello there! My name is Ava, also known as A.R. Von. I'm a mother of two entertaining teen boys (as well as a fun and lovely fawn Chihuahua, whom I consider my furry daughter.) I'm also a wife to a delightfully handsome and amazingly funny man-beast. I'm an avid reader of many genres which include (but are not limited to) erotica, paranormal, ménage, fantasy, YA, NA, western (I have to have a hot cowboy, or two, here and there) and some historical. I also love to exercise, listen to music, hike, cook, dance and write. I write to free my mind of its constant wondering and brain clogging dreams. I love the fact I can share it with readers that have the same passion for a great story. I also write reviews for Romance Book Junkies, Satin Sheets Romance and my own blog A.R. Von DreamZ of Dragons. What can I say, I love writing.
Any aspiring authors out there? Don't hold back! Set your zombies free. Share that wonderful imagination of yours with the world.
Welcome Ava, so tell us: why Zombies? Is there anything specific that draws you to the genre?
I've always loved and enjoyed anything frightening and gruesome (the only one in my household growing up that did actually. Made it quite fun!) Zombies were just always cool. They never had/have much to say and were/are awesome! I've not met an annoying zombie yet. You?
Tell us about your latest project.
My latest release is titled Wunder (0.5 Dreamz) and is the prequel of the Wunder series. This series is intended for readers 18+ (due to sexual content and language). Stay tuned for more information, including the blurb a little later!
What makes your Zombies different, if anything?
My zombies are "fresher" then your average zombies out there. They are also smarter (ex. They know the best way to take down a human is to go for the heel/Achilles area). They are also stronger and faster than your average zombie making them even harder to kill and more terrifying (eeek!)
That is more terrifying! What is your all-time favourite Zombie book that you didn't write?
I've only read a handful of zombie books. Laurell K. Hamilton's Anita Blake series rocks it for me. I know it's more vampire than zombie, but LOVE the way they are raised and portrayed!
Do you feel that gender plays a part in getting noticed in the genre? If so, why do you think readers are more comfortable reading Zombie works written by men?
I'm honestly not certain. I read from both genres. Stephen King ROCKS as does Laurell K. Hamilton. Two different genres, but two incredible authors in my eyes 🙂
Have you ever thought about using a male pseudonym to sell more books?
No. I've actually just heard recently about males using a female pseudonym and visa versa.
Characters or gore – what do you spend more time writing?
Characters. I want them a realistic as possible. Even if they're just in the story for a minute.
What are your top 3 favourite Zombie films?
Return of the Living Dead, Dawn of the Dead & Shaun of Dead.
Love all of those movies! Do you think the popularity of The Walking Dead and its appearance in mainstream media has helped to increase the popularity of the genre, or has there always been such an interest?
I feel there has always been interest. The Walking Dead just brought all the zombie lovers out to play 🙂
Pop Quiz: If the Zombie Apocalypse were to occur right now, 5 things found in the room you are currently sitting will be your weapons – what are they?
Hmm, great question. I'd say one of my pointiest and heaviest dragon statues (I'd hate to see any of them broken, but it's me or them and I can't glue myself back together) lol. My three-pound dumbbells, And my 2 metal tree/art wall hangings (they are heavy and could definitely do some major damage). And last my entire desk!
You may well make it through Ava…
And now it's time to take a sneak peek into WUNDER (0.5 DreamZ)…
A World of Turmoil and Yearning
Wunder may have a normal life now…well, as normal as a freak of nature could have. Half zombie while her job is to hunt bloodthirsty creatures to protect the innocent. It's the dreams that haunt her and they aren't nightmares. Wunder dreams of a man, a man made just for her. Is he real, can he be the one she's yearned for?
Pete's world is a lonely one as he wrestles with the reality of being part zombie. His hatred for the creatures that killed his parents drives him to patrol the streets and wipe them all out. His life would be stark, but for the dreams he's been having; of a woman, so sensuous, so sexy. These alluring visions have become erotic and consuming. He feels as if he made her up to keep from going crazy. Is this life of hunting the walking dead, all there is? Or is she out there, waiting…just for him?
Don't forget to click on the cover to be whisked away to Amazon!
If you'd like to connect with Ava, you can find her on her blog, Twitter, Facebook (Author Page, Blog Page, and Personal Page), Google+, Pinterest, Goodreads, or via her Amazon Author Page! Thanks for taking the time to answer my questions Ava!
Ava has also sent along a link for the book trailer to the WUNDER series! Make sure you check it out too!!