Recently I joined 32 other women who wrote in the Zombie genre and we released a fantastic compendium of undead treats for lovers of the genre! It's called Darlings of Decay and the best news is that it's a FREE download on Smashwords! What a great way to try samples of some of the greats writing in the genre! Click on the cover and it will take you straight to Smashwords.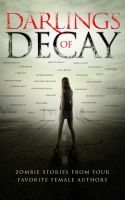 Today I have to distinct pleasure of welcoming fellow Darling of Decay C.A. Verstraete to Days with the Undead. For those of you unfamiliar with C.A., let's take a moment and get everyone acquainted…
Christine Verstraete is a big Halloween fan who enjoys a good scare or two. Her short fiction has appeared online and in anthologies including Timeshares and Steampunk'd from DAW Books. Her new YA book, GIRL Z: My Life as a Teenage Zombie releases August 1. Stop by her website at http://cverstraete.com or blogs, http://girlzombieauthors.blogspot.com and http://candidcanine.blogspot.com.
Welcome C.A.! So tell us, why Zombies? Is there anything specific that draws you to the genre?
Besides all the blood and gore? Hmm… Well, I admit I do turn away at the gruesome parts in movies, but zombies are fascinating in their own way. They can symbolize so many things, and mean different things to different people beyond just the classic horror image.
Tell us about your latest project.
My book, GIRL Z: My Life as a Teenage Zombie, comes out in August, but is available for pre-order. It's YA with zombies, yes, but features a girl who turns part-zombie. The book focuses on her life as she copes with a new physical and social reality while searching for her and her cousin's lost mothers.
What makes your Zombies different, if anything?
I do have the typical, icky, attacking flesh-eating zombies in there, but the part Zs (zombies) like Becca are mostly still human but have to cope with physical, emotional and health changes. Oh, and different eating habits. (No, not "that.")
Has there been a Zombie novel or short story that has inspired you to write in the genre? If so, tell us about it and why it inspired you.
I tried not to read any zombie books until mine was done. But the books that impressed me were Jonathan Maberry's Dead of Night for the detail and idea of a serial killer coming back to life; I enjoyed Belinda Frisch's Cure, for the creepy premise and intriguing hospital setting (still finishing that); Dana Fredsti's Plague Town had a great female lead; and I'm super intrigued by Raising Stony Mayhall, yet to be read. In a similar vein, Dave Zeltersman's Frankenstein has a new take on the classic and is beautifully written. And that's just a small portion of the list.
What is your all-time favourite Zombie book that you didn't write?
Maberry's Dead of Night still leads the pack for me. So far. And I love Angela Scott's idea of a zombie western.
Do you feel that gender plays a part in getting noticed in the genre? If so, why do you think readers are more comfortable reading Zombie works written by men?
Is it that society overall expects men to be more violent or is more accepting of that still? Zombie books do have their fair share of violence unless they are written for very young children (you'd hope). But gender really shouldn't play a role as shown in TV and films. Women can kick butt as good as the guys.
Have you ever thought about using a male pseudonym to sell more books?
I used initials on my book, but I make no secret of my identity. I did it really for convenience (my name is too long. ha!)
Characters or gore – what do you spend more time writing?
I like to show my characters and their world, but I guess it's kind of fun writing icky, gory stuff. You can't help but laugh when you get creative with it. (I tend to try making some of it humorous.)
What are your top 3 favourite Zombie films?
Zombieland, Night of the Living Dead, and I haven't decided on a third.
Do you think the popularity of The Walking Dead and its appearance in mainstream media has helped to increase the popularity of the genre, or has there always been such an interest?
The show really seems to have hit a chord in society, probably because people already feel they are fighting a battle with the continual economic, financial and moral strife and concerns in our society in the past few years. They can relate to people who are fighting for their lives or feel that there hopefully is, or maybe isn't, a way out.
Pop Quiz: If the Zombie Apocalypse were to occur right now, five things found in the room you are currently sitting will be your weapons – what are they?
I'm dead meat, I guess, ha! But I'm in the kitchen, which is some help, so I choose: scissors, knives, flashlight, a lighter, and skewers. Darn, the dog moved to the other room.
You may well survive C.A.!
Now let's take a look at C.A.'s GIRL Z: My Life as a Teenage Zombie…
This book is a Young Adult (YA) science fiction Zombie book called GIRL Z: My Life as a Teenage Zombie … Life can suck when you're sixteen. It can suck even worse when you're not- quite- dead. Sixteen-year-old Rebecca Herrera Hayes faces every teenager's biggest nightmares: bad skin, bad hair, and worse . . . turning into one of the living dead. Becca's life changes forever when her cousin Spence comes back to their small Wisconsin town carrying a deadly secret he's becoming a zombie, a fate he shares with her through an accidental scratch. The Z infection, however, has mutated, affecting younger persons like her, or those treated early enough, differently. Now she must cope with weird physical changes and habits no girl wants to be noticed for. Then she meets Gabe, a good-looking part-Z like her, and fears falling for him. After all, how can he, who shows hardly any Z symptoms, be interested in someone like her? But time is running out … Becca needs his help as she and her cousin Carm search for their missing mothers and fight off hungry Zs. Most of all, she needs to find something, anything, to stop this deadly transformation before it is forever too late…
Clicking on the cover will take you to Amazon where you can pre-order a copy of GIRL Z: My Life as a Teenage Zombie!
Thank you C.A. for taking the time to answer my questions! If you'd like to connect with C.A. you can find her on Facebook, Twitter, her website, or either of her two blogs: Girl Zombie Authors and Candid Canine.