Recently I joined 32 other women who wrote in the Zombie genre and we released a fantastic compendium of undead treats for lovers of the genre! It's called Darlings of Decay and the best news is that it's a FREE download on Smashwords! What a great way to try samples of some of the greats writing in the genre! Click on the cover and it will take you straight to Smashwords.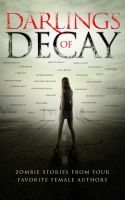 You all know how I like to spread the word about other authors, especially those writing in the genre. Today I have a treat for you. Cynthia Melton has stopped by to answer my questions and she's one of the authors in Darlings of Decay. Not familiar with Cynthia? Let's learn a little more about her…
Cynthia Melton is the pseudonym for multi-published author, Cynthia Hickey. Her zombie series, A Zombie Awakening, has been called "Walking Dead with a Twist". which is exactly what she was aiming for with this series. You may find her other books at www.cynthiahickey.com. She lives in Arizona with her husband and the youngest of their seven children, two dogs and two cats.
Welcome Cynthia – so, why Zombies? Is there anything specific that draws you to the genre?
Not really. I'm as surprised as the rest of my family that me, a historical romance writer, would use my maiden name and switch to a genre such as Zombies.
That is surprising, but we all have that pull in us somewhere! Tell us about your latest project.
I just combined the first three books in my Zombie Awakening series into one book. I'm planning on releases novella number four by the end of the year.
What makes your Zombies different, if anything?
Well, it's not about the zombies, it's about the survivors, although there is plenty of gore and flesh-eating to satisfy the staunchest zombie lover.
Has there been a Zombie novel or short story that has inspired you to write in the genre? If so, tell us about it and why it inspired you.
I got hooked on the Walking Dead TV series, got my own idea, and never looked back. I originally started writing the zombie books so I could cast my son as a main character. They're doing much better than I'd thought.
What is your all-time favourite Zombie book that you didn't write?
Apocalypse Z. I CANNOT wait until the second book is translated into English.
Do you feel that gender plays a part in getting noticed in the genre? If so, why do you think readers are more comfortable reading Zombie works written by men?
No, I don't feel there is much of a distinction between genders in the book world. We're all pretty equal. It's about the story, not whether you're a male or female author.
Have you ever thought about using a male pseudonym to sell more books?
Nope. I'm a woman and don't plan on changing.
That's what I wanted to hear! Characters or gore – what do you spend more time writing?
Characters, definitely
What are your top 3 favourite Zombie films?
The Walking Dead, Zombieland, and World War Z
Do you think the popularity of The Walking Dead and its appearance in mainstream media has helped to increase the popularity of the genre, or has there always been such an interest?
Oh, definitely. It's what woke me up to the popularity of zombies.
Pop Quiz: If the Zombie Apocalypse were to occur right now, 5 things found in the room you are currently sitting will be your weapons – what are they?
Scissors, glass from a large picture frame, a wrought iron wall hanging, other than that there's my laptop (which I wouldn't want to ruin) and lots and lots of books.
It's hard to say… you may have a chance Cynthia. Maybe!
Now let's take a sneak peek into Cynthia's The Darkening: The Zombie Awakening Book 1…
It's not about the ZOMBIES, it's about the SURVIVORS
Attempts to divert a giant meteor from striking the Earth fail. Instead, the meteor was broken and showered the earth with many. One of which strikes a government test facility unleashing a plague like none the world has ever seen.
Chalice Hart watches her mother die and then flees their home with her brother and sister. They team up with another group of survivors and head west in search of a safe zone.
The horrors they encounter were only imagined in Chalice's nightmares. The one redeeming factor is the handsome Colton Morgan. A young man who quickly becomes much more than a friend.
Clicking on the title will whisk you away to Amazon!
Thank you Cynthia for taking the time to answer my questions. If you'd like to connect with Cynthia, you can find her on her website, Facebook and Twitter.