Today I'm joined by relative newcomer to the Zombie genre, Tim Baker. Tim has recently released a novella alongside Zombie author Armand Rosamilia. For those of you not acquainted with Tim, let's get to know him a bit better…
Rhode Island native Tim Baker relocated to Palm Coast in 2006 and immediately fell in love with the area. In early 2007 a bizarre dream inspired his first novel, appropriately called Living the Dream, and he has been cranking out books non-stop ever since. Tim writes fast-paced, off-beat crime stories set in Flagler Beach and St. Augustine, full of colorful characters and loaded with unexpected and often humorous twists and turns. You can learn more about Tim's work and how to contact him on his website at www.blindoggbooks.com.
Welcome Tim! So tell us, why Zombies? Is there anything specific that draws you to the genre?
I have to be honest…ordinarily I am not a zombie author. I was asked by my friend Armand Rosamilia to co-write a zombie novella with him – so here I am. I will say this though…I'm having a lot of fun with it.
Well at least you're having fun! Tell us about latest project.
My latest release is called Pump It Up. It's a fast-paced thriller that starts in a back-room silicone pumping party and runs rampant through Flagler Beach via St. Augustine, a water slide and even the bottom of the ocean. It's a wild ride for sure! (no zombies though)
For those of you looking to take a peek at that novella that was co-written by Tim and Armand, here it is…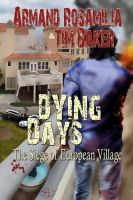 European Village in Palm Coast Florida is the last bastion of defense against the unending zombie horde.
Darlene Bobich and John Murphy are fighting for survival, and their feelings for each other.
They are surrounded: The defenders of European Village ahead, mysterious strangers from the rear, and zombies everywhere. But inside European Village, a small band of survivors are doing whatever it takes to stay alive – but are they risking their own survival by keeping the new strangers out?
Dying Days: The Siege of European Village is the latest release in the Dying Days series by Armand Rosamilia, and first with author Tim Baker (Water Hazard, Pump It Up) and combines their favorite characters in one rousing story! Includes an Author interview detailing how the story came about, as well as sample chapters from both authors!
What makes your Zombies different, if anything?
Different from what? I can't compare them to other zombies – I'm a rookie, remember!!! I can say this though…in the story Armand and I are writing I've brought the hero from my other books in. His name is Ike and he is one bad mutha…anyway – the zombies in this book are different from other zombies because no zombie has ever had to deal with the likes of Ike before!
Sounds interesting! What are your 5 favourite Zombie books that you didn't write?
I could lie and rattle off five zombie books but I won't. Like I said – until recently I wasn't into the zombie thing at all. I've only read one zombie book and that was Dying Days – by the aforementioned Armand Rosamilia. (I liked it enough to go along with his suggestion to write with him)
Maybe now you'll read more in the genre 🙂 What are your top 3 favourite Zombie films?
As with the previous question – I've only seen one…Night of the Living Dead when I was in high school. I loved it though and whenever it comes on TV I watch it.
Well at least you have watched what I humbly consider to be the best one! Do you think the popularity of The Walking Dead and its appearance in mainstream media has helped to increase the popularity of the genre, or has there always been such an interest?
I think the zombie genre has had a cult-like existence for years and it was always an inch away from boiling into the mainstream. The Walking Dead gave it the extra heat it needed to get there, now the popularity is increasing exponentially which is driving more attention to the show, which increases the popularity…it's becoming a perpetual motion machine.
Pop Quiz: If the Zombie Apocalypse were to occur right now, 5 things found in the room you are currently sitting will be your weapons – what are they?
The first two would be my feet…I'd use them to get my ass further away to a place that has a better selection of weapons! After that I'd probably take a sharpie…the ink could give them a nasty infection. I have a couple of knives within arm's reach, I suppose they would come in handy. And finally, I have a small wooden souvenir baseball bat from a Boston Red Sox game…it would make an excellent skull basher!
You may well survive Tim. Maybe… Thank you for answering my questions! If you'd like to connect with Tim, check out his website. If you'd like to take a sneak peek at Tim's latest solo release Pump it Up, here it is...
What begins as a quiet walk along scenic A1A in Flagler Beach, Florida quickly becomes a near death experience for vacationing Dave Ryan after he witnesses something very bizarre.
Ex-Navy SEAL Ike is enjoying a quiet evening with friends, drifting peacefully off the Florida coast. Things take a turn toward surreal when Ike suddenly has to rescue a man thrown from a nearby boat and left to drown.
Ernie Boudreaux makes his living preying on people's vanity and insecurity by offering back room cosmetic procedures. He will also go to great lengths to protect his operation…up to and including murder.
And then there's Saffire…the mysterious link to Ernie's past returned to settle an overdue debt.
Ike will do whatever it takes to protect his friends…Ernie will not forfeit his cash without a fight and Saffire wants a pound of flesh – preferably Ernie's.
The result is a high stakes free-for-all with several lives and a lot of cash on the line.
Don't forget to join my next week when Eddie Rotten joins me!